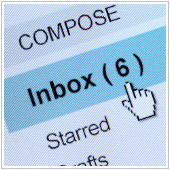 Email has become the main form of communication for many businesses. When first launched, many people treated email as simply an electronic version of company memos and letters and therefore created and styled them as such. Over time, email has become much more informal, and while this is great it can lead to problems in overall clarity of communication. However, there is one effective way you can ensure all of your messages are clear and understandable, by adopting PAR.
Better email structure for small businesses
In order for your emails to be clearer and to get the overall message across easily, you might want to implement a PAR structure. This three part framework has been used by many business owners and managers to improve overall communications, and consists of:
Problem
At the very top of the email, below the salutation, provide a brief yet clear overview of the problem which is the subject of the email or the reason you are making contact. When writing this overview don't assume anything, including shared knowledge or agreements, unless you have discussed these with all recipients beforehand. The key here is that you are looking to be able to summarize the main issue.
If you need more than two paragraphs, then you should probably create a longer form report that is attached in the email. The reason for this is because the vast majority of people will simply scan an email, and if it's too long, they will usually skip it, or possibly miss key points. If it is easy to scan and read, then there is a greater chance all parties will be on the same page.
Beyond this, if you are struggling to come up with a short explanation or can't clearly summarize the problem in writing, then email may not be the best medium to be using. Opt instead for a meeting or phone call to discuss the issue more fully.
Action
After stating what the problem is, clearly mark any proposed actions or recommendations using a relevant heading, then specifically lay them out in an easy to read format. You want to be as specific as possible here, ensuring that all parties understand what you want to happen and the actions they will need to take as a result.
For example, if you use vague language, such as: "I need this by the end of the month", people may only carry out what you are asking for on the very last day of the month. Instead, you might be better to give a specific delivery date, and possibly a set time, so that any deadlines are clearly defined. Bulleted and numbered lists can really help here, as long as they are clear and understandable and don't muddle the issue.
Results
Finally, identify the expected results based on the actions you want the recipients to take. This helps ensure that every recipient knows what they should be striving for, as well as serving as an indicator of whether the problem has been specifically solved or not.
If the results aren't met, you have a good opportunity to look back at the process and see if there is any room for improvement, or try to pinpoint exactly why something went wrong or didn't happen as you planned. This in turn, if leveraged correctly, can help improve overall productivity.
Looking to learn more about increasing productivity in your office? Contact us today to see how our systems can benefit your business.
Published with permission from TechAdvisory.org.
Source.