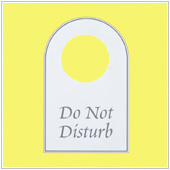 If you have an iPhone that you use for business it can be tempting to be constantly connected, after all, the device and various apps are designed to give users the ability to do almost anything. While this is great for business, it may not be ideal for a healthy work-life balance or if you really need to concentrate on a specific task. Luckily, if you have iOS 8 installed on your device there is a useful feature, called Do Not Disturb, that could help promote a break from your phone.
What is Do Not Disturb?
Do Not Disturb is a handy iOS 8 feature that when enabled, silences all notifications, calls, and alerts that you usually get coming through when the device is locked. You can either turn it on and off manually, or schedule a time for when it is to be activated. If your device is unlocked, e.g., you are using it, notifications will usually still trigger.
Turning Do Not Disturb on
To turn this feature on simply:
Slide up from any screen on the device to open the Control Center.
Tap on the crescent moon icon at the top of the Control Center.
This will turn on the Do Not Disturb feature. You should see a crescent moon icon appear in the menu bar at the top of your device's screen indicating the feature is activated. To turn it off, open the Control Center and tap the crescent moon icon again so that it disappears from your screen.
Setting a Do Not Disturb schedule
If you would like to schedule a time where your device automatically puts itself into Do Not Disturb mode, simply:
Open the Settings app on your iPhone.
Tap on Do Not Disturb.
Slide the radio beside Scheduled to On (green).
Set a time to enable this feature.
As with the manual triggering of this feature, you will see a crescent moon icon in the top menu bar of your device when it is active.
Changing feature settings
If you tap on Settings and then select Do Not Disturb you will also be able to tinker with the settings related to this feature. The options you will see include:
Manual – Allows this feature to be manually enacted via the Control Center.
Scheduled – Schedule a time when this feature will be automatically enacted.
Allow Calls From – Pick which contacts to allow calls and notifications from so that these sound even when Do Not Disturb is active.
Repeated Calls – Set whether multiple calls in a short amount of time will ring when the feature is active. If enabled, two calls from the same person in less than three minutes will cause the device to ring.
If you would like to learn more about using the iPhone for business, please contact us today to see what difference we can bring to your business.
Published with permission from TechAdvisory.org.
Source.